Unlike other MTB trails in the state and nation who close their trails over winter, the St Helens MTB trails remain open and are in PRIME shredding condition.
The sandy granite soils in our area mean that they are perfect for winter riding and there are still plenty of things to do in St Helens off-trail in the off-season.
Hit the beach
Even if you don't want to get in the water, which is a shame as the water clarity is amazing this time of year, you can still enjoy some beach time. From Falmouth to the Gardens you will find a variety of beaches and the chances are pretty high this time of year that you will find one all to yourself.
If you want to brave the surf like with the locals we recommend checking out Four Mile, Falmouth, Scamander and Beaumaris beaches. If it just the beautiful scenery you are after you can't go past the Binalong Bay and the Bay of Fires. These beaches are home to the famous, orange lichen coloured rocks, squeaky white sand and crystal clear turquoise waters.
Image: A couple at the Bay of Fires – courtesy of East Coast Tourism
Fun for the whole family
Looking for some fun off-trail activities for the whole family? Or maybe you want a day of hard core riding to yourself and need to send the rest of the family on an adventure. Well don't lament, there are plenty of things for the kids and non-mountain bikers to do while in St Helens.
Serpentarium Wildlife Park Tasmania
If you like reptiles, particularly snakes, you must check out the St Helens Serpentarium.
Run by a local family who are passionate about reptiles, their collection even includes an anaconda called Mickey, Indian star tortoises and a range of non-venomous snakes and lizards.
They offer daily feeding displays and allow visitors to get up close and personal with their scaled friends. You can find out more including demonstration times here:
Image: The St Helens Serpentarium is hoe to a large collection of reptiles
Kayaking and Sapphires
Swap your pedals for paddles and take a kayak tour with Secret River Kayak and fishing tours. During the winter the bays and rivers tend to be beautifully clear and still so perfect for a paddle any time of day. Of course early morning is going to be the most spectacular as you watch the sun rise up from the east over the ocean.
Secret Rivers also offers a guided fossicking tour that will see you taken to secret fossicking locations around the North East where you may find sapphires and topaz. Check out their Facebook page for more information here:
Images: A Sapphire found at one of Secret Rivers' fossicking spots – A quiet paddle on the Scamander River
Whales and Dolphins
The coastal waters of the Bay of Fires is a great place to see some whales, seals and dolphins and there is no better chance to catch a glimpse of these mesmerising creatures than to take the Bay of Fires Eco-Tour.
Whales can be seen off the east coast of Tasmania heading northward between May and July and with the water clarity at its best this time of the year, it really is a great time to be on the water.
Bay of Fires Eco-Tours operate from the Gulch right in Binalong Bay and offer a range of different tours. You can find more information here:
Image: Customers enjoy watching a humpback feeding from the Bay of Fires Eco-Tours
Swap your bike for walking boots
Winter is the perfect time to explore the valleys and rainforests in our area with waterfalls spilling in to fern lined waterholes over moss covered rocks. Make sure you check out:
Halls Falls:
Located just over 20 minutes drive from St Helens, Halls Falls is a truly spectacular place as it features twin falls flowing in to a peaceful, tree fern lined rockpool. It is a lovely spot to escape the summer sun and enjoy a quiet picnic. It is an easy but in parts steep walk down to the falls so make sure you wear some good shoes. You can find some more information here.
St Columba Falls:
Located 40 minutes' drive from St Helens and passing through the dairy capital of the area, Pyengana, St Columba Falls is a an easy 20 – 30 minute return walk.
The falls are one of Tasmania's highest at 90 metres high and are at their most spectacular after a good rainfall. You can find more information here.
Evercreech's White Knights and Evercreech waterfall
Located in the Fingal Valley near Mathinna are the tallest white gums in the world, the 'White Knights', as well as the nearby Evercreech Falls.
The perfect spot for a picnic with BBQ facilities right by the creek, both walks, to the White Knights and the Falls are not difficult and worth a look. You can find some more information here.
Mathinna Falls
Mathinna Falls is located within the Mathinna Falls Reserve and is great to pair with the Evercreech Falls if you are looking for a day of exploring. The waterfall totals around 100metres high and comprises four falls. The first waterfall is the easiest to access and is a short walk 15 minute return from the carpark.
Paddys Head
For those that like a challenge, the Paddys Head walk is for you! If you are driving to the East Coast via St Marys you will spot a pyramid shaped hill behind the township, this is St Patricks Head, or Paddys Head.
This is a challenging walk and will take around 3hours return as it climbs steeply to 683m above sea level, but once at the top, the 360 degree views across the Fingal Valley and north and south up the east coast make it all worthwhile. You can find a directions to Paddys Head here:
Mt William National Park
The main National Park in our area is the Mount William National Park. Home to the Eddystone Point Lighthouse, the Bay of Fires Walk and some amazing camping grounds, Mount William is certainly worth a visit. You can find plenty of information including activities in the area on the Parks and Wildlife website.
For more things to see and do in our area you can visit the Great Eastern Drive web page or drop in to our Visitor Information Centre at 61 Cecilia Street, St Helens. Or shoot them an email to sthelensvic@bodc.tas.gov.au
Image: The beautiful Halls Falls in the Pyengana / Weldborough Valley
Food, wine and the finer things in life
There are a range of eating out options in St Helens from fine dining degustation to fresh fish and chips from a boat moored off the St Helens Wharf.
Furneaux
If you are looking to treat yourself or fancy a fancy feast, then the award winning Furneaux will meet your expectations. Owned and operated by two five star chefs, the restaurant offers a fine dining experience with a distinct French flavour that offers escargots, lobster, salmon, duck and more. They pride themselves on showcasing local produce and providing an intimate dining experience. You can find their menu and more about the restaurant here:
Raida
Located in the centre of St Helens, Raida is relatively new to the east coast dining scene and provides a Japanese style restaurant with an Australian twist. A mountain bike friendly location, the restaurant offers sashimi, ramen and everything in between. You can find out more about this restaurant here:
Skippers
Found at the St Helens wharf, Skippers are a fish and chip shop with a difference, they operate from a boat!
Tethered to the wharf in a permanent location, the fish is sourced locally and sometimes even arrives by boat who drops the fresh produce off direct to the kitchen. You can also purchase fresh shucked local oysters from Skippers that you can take away to your favourite St Helens beach or bay to enjoy. You can find more information here:
Parkside Bar and Kitchen
Parkside is located at the NRMA Waterfront St Helens Caravan Park and enjoys views out over Georges Bay. Offering a family friendly dining experience Parkside has a varied menu catering for a range of tastes including pizzas, steaks and fish and chips as well as a great range of beers, ciders and wine with a focus on locally produced. You can find more information including the menu here: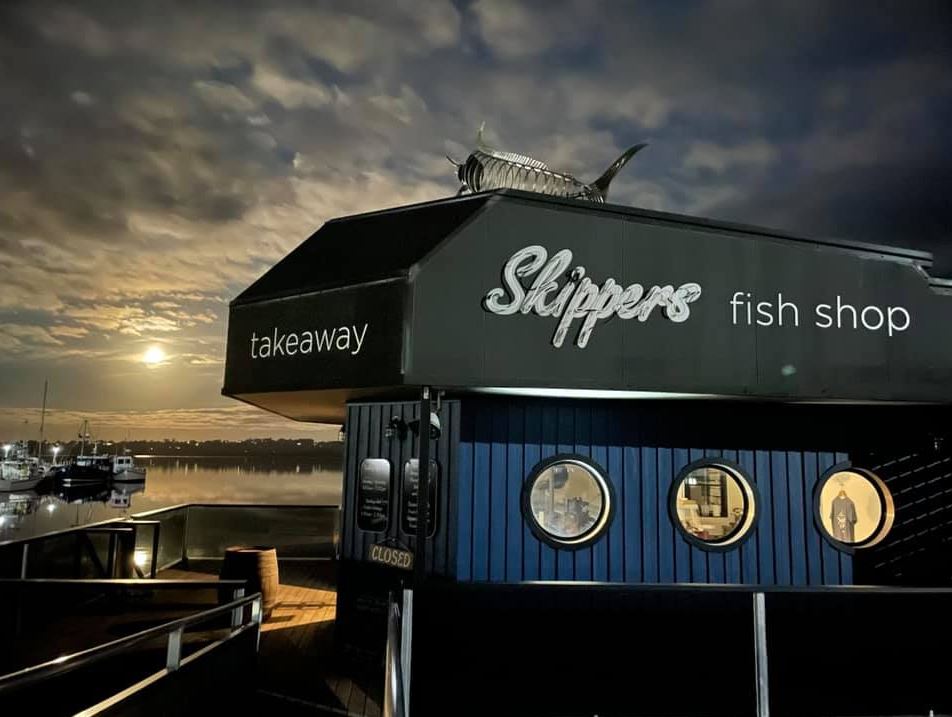 Image: Skippers provides fresh fish and chips from their boat moored at St Helens Wharf
If this isn't enough inspiration for you to consider visiting this beautiful coastal township in winter you can find more reasons to stay by following the links below.